GET INVOLVED WITH INCREASING TOURISM.
We here at Orlando North, Seminole County Tourism are dedicated to increasing tourism in our county and helping attractions, hotels, restaurants and other tourism-related businesses benefit in every way possible. We invite you to stay informed and get involved through the information provided in this partner section. If you require additional information, simply send us a request.
FUNDING THE GROWTH OF TOURISM IN ORLANDO NORTH.
The Tourist Development Tax, nicknamed the "bed tax," is a local sales tax that applies exclusively to the rental of living quarters or accommodations for a term of six months or less. The money collected from this tax is used to promote Orlando North, which creates more tourism, which creates more bed tax revenues, and so on. So you can see, this is a self-sustaining process that increases tourism and makes a positive economic impact in our community.
ORLANDO NORTH ECONOMIC DEVELOPMENT
If your business is interested in relocating to Orlando North, click here.
MAKE YOUR NEXT ZOOM MEETING AN ADVENTURE!
Meet (virtually) in Orlando North! Download Zoom Backgrounds
GET INVOLVED IN ORLANDO NORTH'S LATEST CAMPAIGN
Orlando North, Seminole County locals know there are countless hidden gems, family-friendly activities and delicious eats waiting to be discovered in our area. We want to team up with businesses like yours by displaying campaign materials at Orlando North hot spots that encourage visitors to explore local establishments and go on an adventure they'll never forget.
Check out the microsite here: HowTo.DoOrlandoNorth.com
The How to Do Orlando North campaign wouldn't be possible without participants like you. We are honored to work with the businesses and attractions that make our corner of Central Florida so special.
In addition to our participants, we've joined forces with evok advertising to make this campaign a reality. Evok advertising is our agency partner for all things marketing and advertising, helping drive tourism to Orlando North and support local businesses. They support us with full-scale creative campaigns (like this one!) and are an extension of our team.
Learn more about the campaign in the PDF below!
How To Do Orlando North Like a Local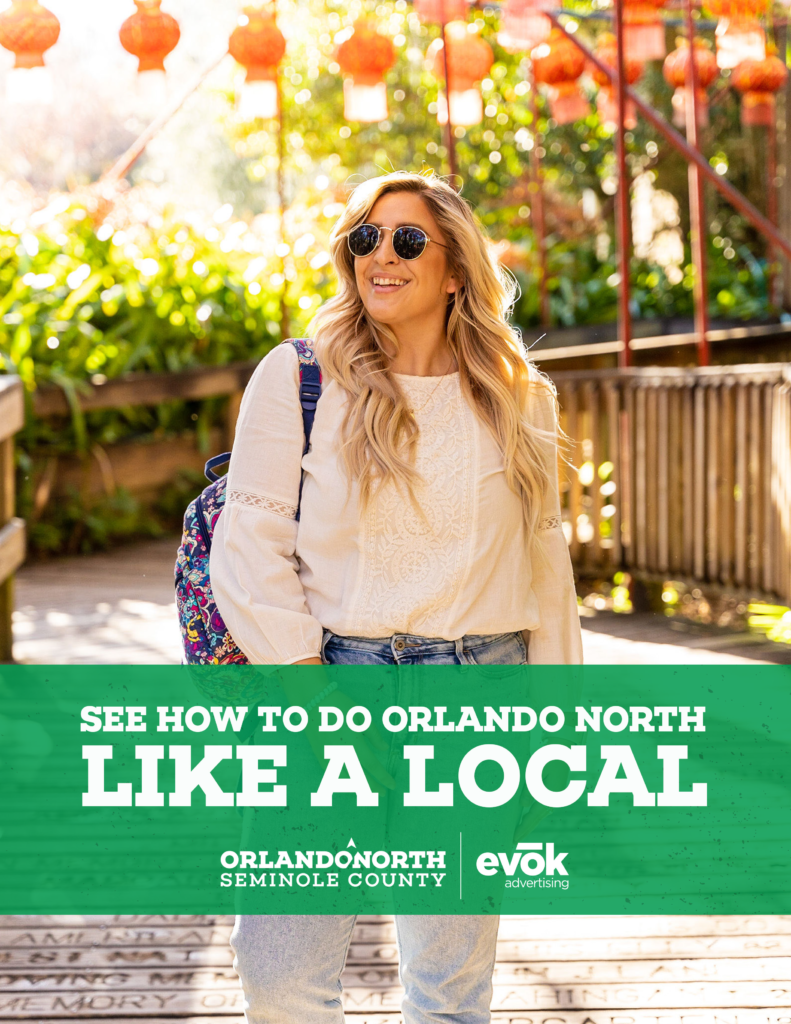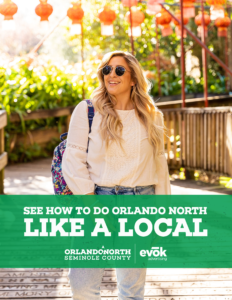 LISTEN TO OUR PODCAST!
The ONSC Podcast brings infotainment directly to the travelers. Take a deep dive with our residents, leaders, and businesses to get the inside scoop on all things travel.
For more information on our podcast, check this out. 
Some of our available episodes include:
Alan Harris – Hurricane Season during the Pandemic
Danny Trosset – New Safety Measures at the sports complexes
Dana Young – Back to the Future of Florida Tourism
Pasha Baker – Goldsboro Museum Update
Perla Crosby – Sabor de Sanford (Taste of Sanford)
Dr. Todd Husky – COVID-19 Vaccines and Treatments
Bill & Mary Sue Weinaug – Wekiva Island
Dan Ping – Have You Seen Anything Like This?
Listen now on any of the following platforms:
CVB STAFF